1st year weight room coach paying dividends for baseball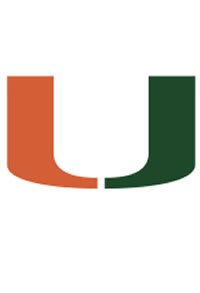 Depending which baseball player you ask, first-year strength and conditioning coach Brian Gabriel is either crazy or awesome.
Or, sometimes, both.
"He's crazy, he's awesome," pitcher Bryan Radziewski said. "Because of him my velocity has jumped back to where it used to be (before surgery two years ago). I'm excited. Last year I was at 85, 87 - now I'm 88, 91, 92."
Across the board, Cane baseball players have seen results. Hitters are getting bigger, stronger and faster. Pitchers are throwing harder and feel more stamina.
"I worked with Gabe to try and get stronger - last year (my velocity) dropped after throwing 109 innings, so that's what I worked on the most," pitcher Chris Diaz said. "My velocity has gone up. I've been hitting 90 consistently, 92, 93 once."
Outfielder Dale Carey's results may be most impressive. He's put on 24 pounds of muscles and has cut out his usual fast-food diet in favor of home-cooked meals. He says his bat's faster and, despite the added weight, his speed has improved.
"Over the summer every week he wanted to see progression, me gaining one pound, two pounds, three pounds," Carey said. "And I got bigger and bigger and bigger."
So who is this new coach players call "Gabe"?
Well, as of last July he was an out-of-work trainer let go by Coastal Carolina. He was home in Texas when the Canes came calling. Gabriel says UM found out about him through Lance Sewell, a strength coach who has connections to Miami.
"It was a two-day head's up (for an interview), then they had to interview a few more people, then it was done," Gabriel said. "I had to make a decision in a week."
Gabriel says when he first arrived at UM he was surprised at the team's lack of conditioning and overall strength.
"I'm demanding," Gabriel said. "When I first got here it was `We've never had to do this.' Those kids have to get used to it - we're going to work that hard all the time. Complacency kills."
Now Gabriel is happy where the team has gone and is heading.
"Those kids have worked really hard, 6 a.m.'s to 6 p.m.'s," Gabriel said. "My program is built around speed and explosiveness. They've gone hard after it."
* Gabriel says Tyler Palmer, Andrew Suarez and Garrett Kennedy are leaders in the weight room. And if anyone misses early morning workouts they have "early morning run or burpees (similar to up-downs). Nobody's late."
- More results: Palmer now weighs 197 pounds; he was 188 pounds when he arrived.
Regarding Zack Collins and Willie Abreu, he says "one is 223 pounds, one is 225 pounds. They were 10 pounds lighter three months ago. They've worked hard."
1B Brad Zunica went from 262 to 253 pounds - "we needed to lean him up," Gabriel said
His body fat has changed. He's growing up. For him it's about leaning up."
As for strength numbers, Gabriel says "everyone has put on 30 to 50 pounds" across the weight lifting spectrum.
Some examples: Palmer benches 305 pounds, up from 290 when Gabriel arrived. And Carey is cleaning 285, up 10 pounds. His squat has also gone up from 385 to 475 pounds.