Alex Rodriguez Park Dedication Feb .13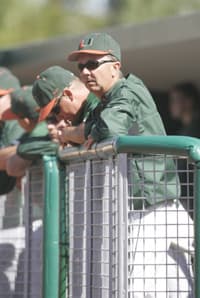 The Hurricane Club is set to host "Dinner on the Diamond" for the University of Miami baseball program on Friday, Feb. 13 at Alex Rodriguez Park. The event, scheduled to start at 6 p.m., will feature a dedication to the opening of the renovated park, in addition to the team's annual preseason banquet festivities.
New York Yankees third baseman and 11-time Major League Baseball All-Star Alex Rodriguez will be in attendance, along with UM Director of Athletics Kirby Hocutt, head baseball coach Jim Morris and the entire 2009 Hurricanes baseball team. In addition, former UM player and current Boston Red Sox scout Laz Gutierrez will be on hand to serve as the banquet's guest speaker.
Ticket prices for the dinner and presentation are $75 per person while sponsorship tables are available for $1,000. The event opens with a silent auction and a tour of the facilities at 6 p.m., followed by the program of events and dinner that will take place at 7 p.m.
The festivities will be held on the infield of Mark Light Field and will take place a week before UM opens its season on Friday, Feb. 20 against Rutgers at Alex Rodriguez Park.
Please make checks payable to the University of Miami Department of Athletics. Contact Stephanie Mansdorf at 305-284-5240 or smansdorf@miami.edu with questions or to purchase tickets.
Renovations to Alex Rodriguez Park are thanks in large part to a $3.9 million contribution by Rodriguez. The gift - the largest ever to the University of Miami baseball program - has assisted the program in continuing to develop first-class facilities.
The most recent phase of renovations to the park included building a new clubhouse, weight room, training room, team meeting room, academic center, video room, press box and four VIP luxury suites. Prior to the most recent phase of the project, new dugouts, stadium lighting, restrooms and concession areas were added.
CaneSport Magazine publishes 25 times a year, 10 glossy monthly printed issues and 15 online or Gameday Issues for a subscription price of $54.95. An online only subscription or a printed magazine only subscription is $39.95. Call 1-800-635-2263 or visit CaneSportmagazine.com