Cristobal made hospital visit to console, offer WR injured at Legends Camp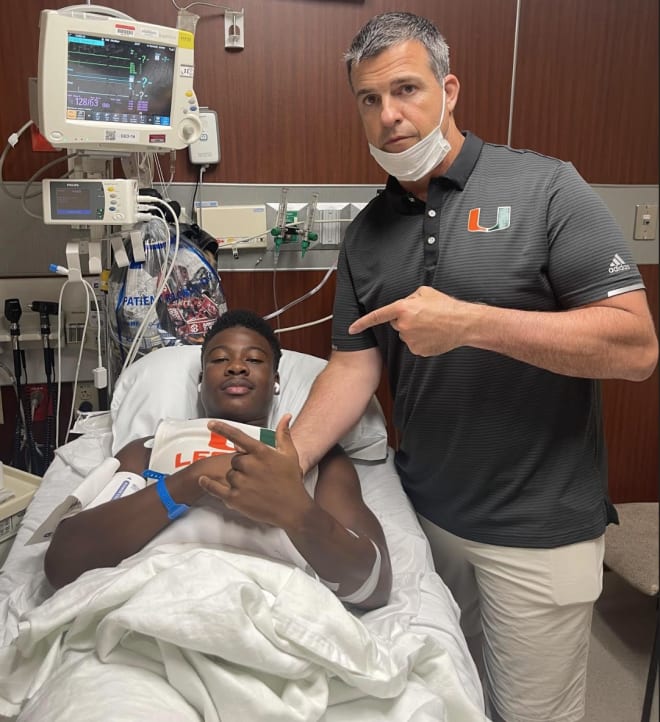 It was the end of one-on-ones at Legends Camp, and Pensacola (Fla.) Catholic Class of 2025 WR Koby Howard was having a solid day going against top older talent.
There was about 10 minutes remaining in the camp when a 50/50 ball was thrown on a post route – Howard rose high into the air to try and come down with it, with the defensive back jumping right up with him. When they landed the DB came down awkwardly on Howard's leg.
Howard immediately knew something was wrong.
The pain was searing, he couldn't walk.
Howard was rushed to the nearby Lennar Medical Center by ambulance, where he was casted for a broken tibia and will work to return on a three-month timeline.
But that's not the whole story.
Not even close.
As Howard was carted into the ambulance, Miami Hurricanes coach Mario Cristobal came running up to him.
"Hey, I'll see you at the hospital," Cristobal said.
Sure enough, even in the aftermath of the biggest recruiting camp of the year, with a dozen high profile official visitors on campus, Cristobal showed up in Howard's hospital room.
And he came bearing a gift: A scholarship offer.
It was Howard's 20th early offer.
"Coach coming to the hospital, I felt real special about it," Howard said. "He didn't have to come and check up on me. Coach Cristobal came and stayed for a bit, said he was sorry it happened and that I wasn't getting a scholarship because I was in the hospital or because of what happened, it was because I earned the scholarship."
Howard's father, Al, was present for the 20 minutes that Cristobal was in the hospital room and adds, "It meant a lot, man. It meant that they really care about the human being part, not just the athlete, the person himself. I really appreciate coach coming out and speaking with us and letting us know how he really felt about Koby as the person."
And after Howard was released from the hospital he met with UM General Manager Alonzo Highsmith.
"(Highsmith) said he looks like the real deal athlete and explained to him that he once suffered a leg injury playing the sport and said he has no doubt that he will come back from this stronger than ever and he can't wait to see it," Al said. "He also said he will be keeping tabs on him and to call him any time for advise, mentorship. He said he hopes that he keeps the Canes fresh on his mind when the time comes to picking a school because he will make sure he gets the best coaching and development to play at the next level because he sees an elite baller in him, a true national recruit."
Now, perhaps, Howard can give Cristobal back a present in the not-too-distant future. That would be a commitment.
"Miami's definitely my No. 1 choice right now, it's a big lead," Howard said. "They just showed so much love. And coach (Josh) Gattis, he puts wide receivers in the league so I'm trying to get under his wing."
At this early juncture, though, Howard has no timeline for a decision.
Miami's willing to wait.
And the next time Cristobal and Howard see each other it will be back on the football field, not in a hospital room.
CaneSport's take
Wow, this really shows that Cristobal doesn't just talk the talk about caring for his players as more than just on-the-field performers, he also walks the walk. Say whatever you want about what happens with this Cane program moving forward, win or lose, but what you can't dispute is this is a head coach that will do pretty much anything for his players … and prospective players.