Exclusive: Canes get their quarterback commit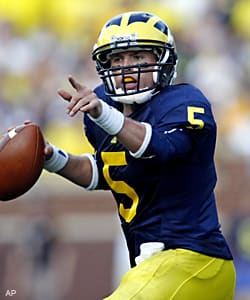 Tate Forcier, the former Michigan quarterback who traveled to Miami Tuesday night for the first of what was to be multiple stops in search of a new home, had a change of plans as he raced to the airport to catch a flight Wednesday afternoon.
He committed to the Miami Hurricanes and canceled the rest of his recruiting itinerary.
"It's just a great opportunity," Forcier said. "Not too many people get a second chance at a program like this. It is a rare situation with two scholarship players on the roster and, with Jacory as a senior, I think it will be an open competition for next year."
Forcier will be taking online courses to keep his academics moving in the right direction and then will enroll in Miami in June for the summer semester. He will redshirt this year and then will have two years of eligibility left.
Forcier arrived in Miami late Tuesday afternoon and had dinner with Miami offensive coordinator Jedd Fisch and tight ends coach Brennan Carroll. Wednesday morning he took a tour of the Miami campus and then had lunch with Jacory Harris.
"Jacory likes the new coaches a lot," Forcier said "He feels they will turn this thing around here. I am just existed to be a part of it. I am really happy with the coaches and feeling a real positive energy."
A highly regarded four-star recruit out of high school, Forcier was the starting quarterback for Michigan in 2009 and the backup this past season.
He left Michigan after this past season and, once the Wolverines granted permission to talk to Miami, made contact with Hurricane offensive coordinator/quarterbacks coach Jedd Fisch.
"He seems like such a cool guy," Forcier said of Fisch before the visit. "He's fired up every time I talk to him. I like that in a coach. You want a coach that's energetic, so that's good. The way he put it is `Let's get this rolling, get you to the U.'"
Forcier was interested in the Canes coming out of San Diego (CA) Scripps Ranch High School, but after then coordinator Patrick Nix met him in person, UM stopped recruiting him because he felt he was too short at 6-foot-1.
Forcier had been planning to visit Kansas State, Arizona, Washington, and Montana. But he now will cancel those plans.
Forcier is from a family of quarterbacks with two older brothers who played Pacific-10 Conference football and a father who also played quarterback in college. His oldest brother, Jason, played briefly for Michigan before transferring to Stanford University. Following in the footsteps of his brothers and father, Forcier has been a quarterback since his Junior PeeWee Pop Warner Football days.
At Scripps Ranch High School he completed 529-of-760 passes (69.6 pct.) for 7,448 yards and 61 touchdowns in his career. He was awarded the starting job before Michigan's season opener against Western Michigan as a freshman, and after his first season he was named part of the All-Freshman Big Ten team.
Tate's freshman year the team started 4-0 before ending the season 5-7 overall. He suffered shoulder and concussion injuries during these losses that limited his effectiveness, particularly in close games at Purdue and elsewhere.
As a freshman he threw for 2050 yards and 13 touchdowns with 10 interceptions. He also rushed for 240 yards and three more scores.
Last year Forcier began the season third on the quarterback depth chart, behind Denard Robinson and true freshman Devin Gardner, and he decided to seek a transfer.