EXCLUSIVE: The Al Golden Interview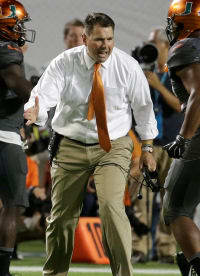 You have been wondering where Al Golden has been all week while you twisted and turned and wondered when he would emerge to reveal how he will make things better for the Miami Hurricanes in 2015 than they were as this past season nosedived to a disappointing 6-7 record.
Sunday and Monday we found him.
"I went to work after returning from Shreveport and haven't taken one break since ... except to take my son to baseball practice," Golden said at the start of an on-and-off two day-long conversation we had about every nook and cranny of the Miami program.
"I am the leader. I have to set the standard. If I'm not accountable, focused, unified, unselfish and relentlessly communicating, how can I expect the staff or team to follow suit? We're all just busting our tails to get it right and move forward. What transpired in 2014 is unacceptable."
The public perception the past week is that Golden disappeared. You might not have seen him in Publix, but we found out that has not been the case. Your anxiety has been his anxiety. So has the same urgency, maybe just in a little different way, with a little different focus.
"I've addressed innumerable things already with the staff and team," Golden said. "The team has been engaged and fired up - their calls, support, texts - that's what motivates me. That's what drives me and gives me the energy every day. We brought 100 players to the bowl game ... 84 of those return to our team. We have an excellent quarterback and leader returning. We made a lot of progress on defense and everyone on that side of the ball has been challenged by me personally to take the next step, to start to win games on that side of the ball and become accustomed to being ranked among the nation's best.
"Right now we have at least four guys coming in at mid-year that are going to be great additions (Jerome Washington, Jahair Jones, Scott Patchan and Jaquan Johnson), with that total number perhaps climbing to as many as six or seven. We also get Quan Muhammad, Rayshawn Jenkins, Matt Goudis, Herb Waters, Rashawn Scott, K.C. McDermott and Taylor Gadbois back as well (off injury). We redshirted 17 guys this year, which is something that adds so much mental and physical maturity to what we already have coming back. It will be nice to add guys like Demetrius Jackson, Ryan Mayes, Terry McCray, Jelani Hamilton, Earl Moore, Joe Brown, Darrell Langham, Mike Smith, and David Njoku to the active roster this spring. So yes, I'm excited."
You might not agree with everything Golden told me as Sunday continued into night and Monday brought a new day. But you will respect it. He is the most positive man in the world, sees very little of all of the negativity that has captivated the Miami fan base for the past month. And before you start dissecting or ripping his words, understand that everything he says comes with backup that makes a world of sense with the unknown of Saturday football afternoons removed from the equation.
They say there are two sides to every story. Well Golden sees his side with a conviction that makes a few things abundantly clear. He is defiant, not beaten. He sees the other side of the rainbow. He knows he has the support of the two people who matter most, President Donna Shalala and Athletic Director Blake James. So he wears blinders and continues to work with the understanding and agreement that what transpired this past season was simply not good enough.
"I'll say it again, 2014 was unacceptable," he said, stressing the point. "We know what needs to happen this year and we love the challenge. I am inspired by it.
"I accept the criticism and challenges that accompany being the head coach at Miami. Sometimes you can be shrouded in negativity. However, there is so much to be grateful for and to get excited about. First of all, we have great players that come to us from awesome families. We have one of the premier universities in the world that ranks No. 1 in the State of Florida. Most, if not all, of the resource and infrastructure improvements have transpired in just the last 18 months.
"Eighteen months ago no one would have touched this job. Now people are starting to see the changes. They see a $350 million renovation to Sun Life Stadium. They know the new $120 million medical facility that will house our sports medicine and performance center is huge for us. They see the new $3 million training table. They see the $7 million dollar refurbishment of our practice fields. They see the $15 million completion of the state-of-the-art Schwartz Center with new locker room, player's lounge, training room and academic support center. They see the $56 million Student Center. They hear discussions of a new indoor practice facility. All of these improvements to our program and campus directly improve the quality of life and represent a revitalized commitment to our players.
"On the field, they see the QB - his leadership, commitment and maturity. They see a defense that lost three starters and a coach right before the season go from 90th to 15th in total defense. They know probation will be over in another year and scholarships will be on the same playing field as our competitors. So yes, it is becoming attractive and we are catching up to our peers in so many areas. The 2015 class will be the first recruiting cycle exposed to all of these things. But the 2016 and 2017 classes ... they will have the best facilities ever afforded Miami Hurricanes and have absolutely no ramifications of the NCAA case. Zero. So they see the world a lot differently than recruits and parents that lived through the 28-month investigation.
"And perhaps the greatest change is the most inconspicuous - an Athletic Director that wants to be here long-term. My first two years on the job we were in the middle of chaos and we had four different AD's. It's impossible to move forward like that.
"So my resolve is stronger than ever. I've just been working like crazy and ignoring the noise. I can't listen to it nor can I address the negativity and every little rumor. I am a positive person and I am far more concerned with the overall growth and development of our student-athletes and implementing the best plan possible for the 2015 Miami Hurricanes."
The Miami job can wear coaches out when they don't win. The legacy is laced with all of those jubilant celebrations and video shots of coaches being thrust onto the shoulders of their players, waving their arms frantically toward the heavens. But disappointing seasons at Miami can be brutal because of the general passion of the Canes Nation. You have seen Larry Coker and Randy Shannon suffer through it in the last decade and now Golden had things go wrong this year and is feeling the intensity of the Canes fans as well.
A lot of the noise has involved Golden's coaching staff, and he remains the General who will not stand for the disrespect of those underneath him. He and his coaches are still having extended one-on-one meetings and Golden told me that no final decisions on the future have been made. Beyond that, there is nothing to report yet.
Instead we talked about a whole multitude of other subjects including where things went wrong this season, the impact of injuries to quarterback Ryan Williams and the offensive line, the fairness or lack thereof of all the public focus on the defense, the fallout from the FSU loss and prospects for the future.
Golden was raw and passionate about every subject.
You want to see whether he has the same anger that you have?
"I'm responsible for all of it," Golden said. "At least I am brave enough to stand up and say it. I'll take it all on my shoulders. That just motivates me. But this thing is close to being fixed and so is our infrastructure. It's my responsibility to fix it and I am doing it.
"We went from 90 to 15 in total defense and played eight top 50 offenses in the country. Overall, too many people blame the defense all the time and as much as we tell our guys to ignore the noise, it's only natural for our seniors to grow sick and tired of it. The truth is this year's team was, in many ways, better than last year's team. Our tackling all year was so much better. We had our heart broken in the FSU game and did not recover. I live with that every day as the leader. But more importantly I am plotting the course to ensure it does not happen again.
"Now think about the defense next year. We return almost the entire secondary and add two or more corners and two safeties. We have to replace Denzel Perryman in the middle, but we will have more depth at linebacker than previous years. And the defensive line has an opportunity to show the biggest growth from this year to next. All of our nose tackles were first-year players, and now we add a more-developed Earl Moore to the mix. We have tackles - Anthony Moten, Jelani Hamilton, Ufromba Kamalu - and ends - Kamalu, Chad Thomas, Quan Muhammad, Demetrius Jackson and Trent Harris and Tyriq McCord. The pass rushers will be the most dynamic since Olivier Vernon left. "
Golden has a large number of defensive stats that support his notion that things on defense are vastly better than they seem to the fan base and general public as he evaluates the program.
Scoring defense - Up to 37th in the country from 68th.
Opponent first downs - Up to 27th from 91st.
Opponent 10 yard plays - Up to 31st from 117th.
Rushing defense per game - Up to 30th from 78th.
Rushing yards per attempt - Up to 26th from 77th.
Fumbles recovered - Up to 18th from 53rd.
Pass defense per game - Up to 18th from 92nd.
Pass yards per attempt - Up to 17th from 75th.
Opponent yards per play - Up to 15th from 80th.
Opponent 20 yard plays - Up to 6th from 76th.
Opponent 30 yard plays - Up to 5th from 66th.
Fumbles forced - Up to 4th from 16th.
Opponent 50-yard plays - Up to 2nd from 29th.
I asked him why he believes the statistical improvement did not lead to a better won-loss record this season.
"We played much better offenses and a tougher schedule," Golden said. "We had too many interceptions early in the season, too many fumbles and an overall negative turnover ratio. The red zone offense was not great, we needed more touchdowns. The starting field position was negatively impacted by our poor kickoff and punt return game.
"On offense we need to improve on eliminating turnovers, improving `money' downs - we ended up 47 percent and the last five games we were 47.4 percent. We need to score more touchdowns in the red zone. We need to eliminate penalties, protect our quarterback at all costs, and finish the second half of games better. On defense, our focus will be improving our red zone success, money downs also and increasing our sacks and tackles for losses, raising the amount of takeaways we force, and dramatically lowering defensive penalties. Our number of penalties on the defensive side of the ball were really low in 2013. We had three times as many this year, and that's unacceptable."
The entire Miami football organization was all in for the Florida State game. The opportunity to make a statement and gain notice was enormous on that prime time national stage. Miami came out on fire, but couldn't sustain its quality of play and got caught at the end. The disappointment without question contributed greatly to the final three losses that ended the season. I asked Golden what he learned as a coach that will help him manage that situation better in the future.
"The Florida State game took on a life of its own," Golden said. "This is the first time since 2011 that the entire organization knew that it was going to win. They were considerably better than us in 2012 and 2013. They had 18 guys drafted to our four. But this year our guys had unshakeable confidence. We had veterans like Clive (Walford), Phillip (Dorsett), Denzel and Duke (Johnson) that helped us close the gap with their playmakers. And we recruited better in the last two classes.
"It's truly not just another game, but our practice routine has to be consistent and our practices, focus and energy was right where it needed to be that week. But looking back, I do believe it evolved into an `all or nothing' mentality. We never said it, but you could tell a lot of our older guys were going to lay everything on the line for this one. And that is the way that The U vs. FSU should be, end of story.
"But the way we lost compounded it. We were out to a good lead and just one or two plays could have made the ultimate difference. The team was emotionally spent - we had so many guys crying in their lockers afterward. That part is good for a team. To have a team consistently invest mentally, physically and emotionally in each game is the greatest gift the leadership and the team can give the coaching staff each week. Invest in the process. And the greatest thing about coming to Miami is that you have an intense rivalry like that.
"But what we have to learn from this year is that while this game carries more emotion than most, we must be willing to consistently invest (so that the FSU game doesn't stand out to that degree). We went out the next week and lost a Coastal game and never came out of it and that is my responsibility as the leader to make sure that we learn from this."
As he watched some of the other bowl games the past month, it struck Golden how many defenses were struggling.
"That's the thing - we're going the other way ... we're not perfect, but no one is in this day and age of defending offense," Golden said. "Yet people are flat out cruel. I feel bad for the seniors. They got tired of it. We'll see how guys develop over the next five months, but we have a chance at being the most talented group on defense since I got here and most importantly they will be walking into a room where the standard is top 15. That is a far cry from two years ago. It is completely realistic for our defense to set their eyes on a top 10 unit now. That would have been unimaginable after 2013. I'm grateful to the seniors that moved us forward on defense."
Golden works in a bubble, but it does exist in the same world where everybody else resides. The criticism he receives might be fuel, but he is still human and can't like it very much.
The more we talked Sunday and Monday, the more his positive mindset rose to the forefront. I asked him how he is doing it amid so much negativity right now.
"Who has time for negativity?" he asked. "I mean, you are either part of the problem or part of the solution. We must work at every level of our organization to choose the harder right over the easier wrong every day - to be a builder, not a basher, to be part of the cure, not the disease.
"I love our team, and more importantly our team is becoming closer. It wasn't ideal, but sometimes life is like that. You can't sit around and complain. You improve and turn it around by having a relentless commitment to consistency. You cannot control the external variables. To overcome and progress, you have to be consistent in your values and message. The `noise,' as we call it, is considerable in Miami and considerably unpredictable. If you are constantly changing your message, systems, values, staff, recruiting, coaches, relationships, and everything else, the result is a vicious cycle.
"I have no interest in that. I have been working since the plane landed from Shreveport to improve our systems, substance, and style, but not our standards. Our standards are non-negotiable."
Let's be honest, regardless of how you evaluate his performance, Golden has been through a rough four years. As he enters year five, the challenge now comes with suffocating pressure. I asked him if there ever is a moment when the frustration builds and he doubts whether he ultimately will be successful at Miami.
"Hell no," he said with conviction. "We are making an incredible 36-month push at correcting our infrastructure, and we are 18 months into it. Our defense improved, we have solidified our QB position, we played 31 first or second year players this season and redshirted 17, we started the year at 75 scholarships and because of injury finished with, I believe, 58 scholarship players. This number will grow each subsequent season now until we hit our 85 max in 2016."
The next month is reserved for recruiting.
Golden's message to recruits?
"On offense, it starts with the solidification of the quarterback position and the year that Brad Kaaya had," he said. "But it also includes a very talented Malik Rosier who gives us an added running dimension. We need two running backs that want to come in and compete for the job and be in the rotation from Day 1. We will have a big offensive line class because this position, more than any other, suffered from the scholarship limitations over the last two years. That was compounded by the 2014 losses of (Hunter) Knighton, (Alex) Gall, McDermott, (Nick) Linder, Gadbois and temporarily Ereck Flowers. I believe our current situation is by far the best opportunity for an offensive lineman in the country to come in and make an impact. We have low overall numbers and are replacing three starters. If you don't want to play and compete to start as a freshmen at offensive line, don't come to Miami. We need two or three wide receivers - playmakers that wreak havoc on third downs and in the red zone. And I am so excited to fill our one tight end spot with a 6-5 263-pound athlete in Jerome Washington, who is reporting this week.
"On defense, you can help us become dominant, help us take that next step. You should see recruits and parents faces when we show them our defensive stats. They fall over. Why? Because perception is reality. Everyone is too busy bitching to accept the progress that has been made. As I have said repeatedly, are we where we want to be? No. Do we have a long way to go? Yes. Are we making progress? Very much so. It was a huge undertaking over a three-year period to go from 90th in total defense to 15th. This year will mark the first time in the last three seasons that we will have someone in the front seven drafted. Lord willing, that will be the first of many to come on defense in coming years.
"In recruiting, fans lose their minds about who you don't get. But recruiting is, and always will be, about who you do get. We can't take every player from South Florida. We don't have enough spots. Two years ago we did an extensive study on recruiting in the state. That year I believe Florida yielded 373 Division I players. So if you figure we take 20 per year, that leaves a lot of Division I talent attending other schools around the state and country. Lots of that talent goes unnoticed by the big programs. There are so many instances of underrated or undervalued kids from South Florida going on to become great players - T.Y. Hilton, Johnathan Cyprien, Antonio Brown, Louis Delmas, Khalil Mack. The list goes on and on. There are so many guys down here. That's not to say we don't want to secure the very best talent this region has to offer. We always want the best players. But in many cases it's more about getting the right players. The only thing that matters is that the ones you do get that can help you achieve your goals.
"We only have five spots left in the 2015 recruiting class. It's not an open buffet. We can't take everyone. We have to fill certain position needs and that requires extremely tough decisions. We've also been working like dogs on the 2016 class. That's the SWAG 16 class, as they like to call themselves, and they are a really fun group to be around. They love the challenge of bringing The U back. That 2016 group will have the best infrastructure and support of any Miami Hurricane team in history. From the Schwartz Center to Sun Life Stadium, everything in the master plan will be in place by 2016."
With those thoughts, Golden was gone off into the night. There was plenty more work to do before another New Year approaches and no more time to talk about it.