Gadbois dismissed from UM program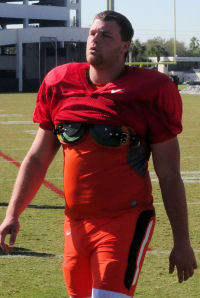 Junior offensive lineman Taylor Gadbois was dismissed from the Miami program Thursday after his conduct at a team building event on Wednesday was deemed the final straw of a long history of behavior considered detrimental to the team.
"Taylor is a bright young man and we wish him the best in his future academic and athletic endeavors," said head coach Al Golden.
Gadbois turned to Twitter to communicate his dismissal.
But sources told CaneSport this dismissal was coming for a long time and that Golden had given Gadbois every opportunity to conform to team rules and be a positive influence on the overall culture of the team. A bad attitude at the team building event Wednesday at Virginia Key that featured Marine-style training sealed his fate and inspired Golden to dismiss him. Gadbois was already expected to miss half the season due to a suspension on an unrelated violation of rules that has not been specifically revealed.
Gadbois, who hails from Dallas, Ga., joined the Hurricanes in 2012 and was redshirted. He saw his first piece of action in 2013 where he played four games on the offensive line.
As a sophomore in 2014, Gadbois made his first career start against Louisville. He would then go on to start the next four games on the offensive line before suffering a season-ending injury against Duke.
Will always love you Miami this was not my decision but I am no longer a Miami hurricane- Taylor Gadbois (@TGcanes76)
June 25, 2015
Lots of pain in my heart knowing my dream of graduating a can was one semester short- Taylor Gadbois (@TGcanes76)
June 25, 2015