Larranaga: Lykes, Olaniyi leaving; Wong, McGusty checking options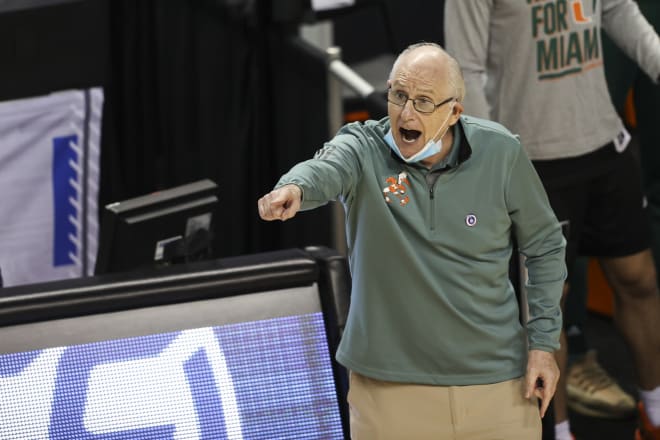 The Miami Hurricanes basketball season ended with a disappointing 10-17 record (4-15 ACC) injury-riddled year. Down the stretch there were only six healthy scholarship players for Miami.
And there's more disappointment this off-season.
While the hope for Cane fans was that some of the injured players/seniors will be back next year for a nice ACC run, it appears several have different ideas.
Today coach Jim Larranaga said star PG Chris Lykes won't be back, and he has since entered the transfer portal. And Elijah Olaniyi (10.5 PPG) will either transfer or turn pro after his one season at UM following a transfer from Stony Brook, and the same goes for Nysier Brooks (7.4 PPG, 3.4 RPG) two years after he transferred in.
That's on top of Earl Timberlake already entering the transfer portal. And standout guard Kam McGusty, who will graduate in May, will "explore NBA possibilities," per Larranaga.
Plus Isaiah Wong (17.1 PPG, 4.8 RPG, 2.4 APG) is submitting his paperwork to the NBA and isn't a lock to return.
Of Lykes leaving, Larranaga said the guard has people in Washington, DC advising him and that "Chris had a heck of a three-year career here, unfortunately wasn't able to complete that run."
Lykes only played two games this season due to a lingering ankle injury.
With Lykes leaving the Canes would take a major hit if Wong doesn't return as another major scoring threat.
Larranaga said Wong "will fill out the underclass advisory forms to get a feel from the NBA as to what his status might be should he declare for the draft. We'll have to wait and see what the underclass advisory committee comes back with their assessment of Isaiah because he obviously had a great sophomore year."
Olaniyi's situation?
"Elijah told me he wants to go pro but is going to enter the transfer portal just in case the pro options are not what he was looking for," Larranaga said, confirming regardless that Olaniyi won't be back.
As for McGusty, Larranaga said, "Kam is on a wait and see, is going to explore NBA possibilities but very much open to the option of returning. Those guys (McGusty and Wong) are going to submit their paperwork and see what the NBA says. His focus is on proving he can play in the NBA. If the report (isn't good from a draft perspective from the NBA committee) I think there's a very good chance Kam will be back in a Miami uniform next year if the advice is come back for another year."
And the future remains uncertain for Rodney Miller (played in only 5 games due to injury) and Deng Gak (2.1 PPG, recurreng knee issues). Larranaga said neither have told him they will return yet.
Players that Larranaga expects back?
He says he's confident Harlond Beverly (6.7 PPG, 3.2 APG) and Anthony Walker (9.6 PPG, 4.7 RPG) will return.
"I've spoken to each of them," Larranaga said. "Harlond Beverly, I don't like to put words in my player's mouth. I didn't speak to him directly about this, but I'm very confident Harlond will be back, very, very confident Anthony will be back."
Depending on who is back or not, there could be a lot of roster openings. The team currently has two signees and one commit in its recruiting class.
And transfers could very much be in the plan, especially with any returning seniors not counting against the 13-player scholarship limit.
"There's over 800 DI players in the transfer portal," Larranaga said. "It is the wild, wild west. We anticipated this happening. We've had a number of our guys announce, a number of our guys still in wait and see mode.
"We're going to continue to recruit and solidify our roster. ... As far as I'm concerned we have a certain number of underclassmen returning, a certain number of commitments and are trying to balance that roster."