Richt weighs in on Mullins, potential transfers & more Sat.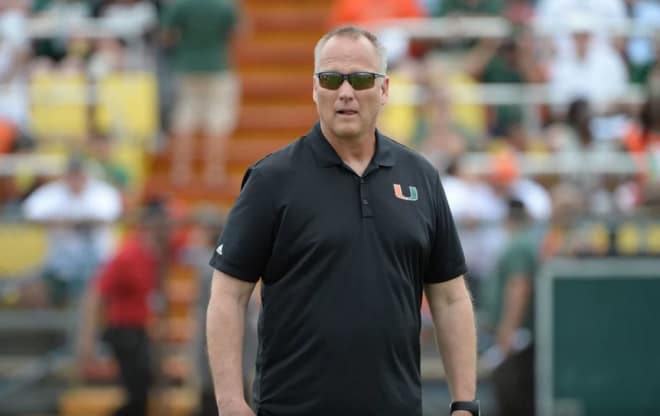 Coach Mark Richt said after Saturday's practice that he still anticipates Dionte Mullins will report to UM before the first day of classes.
Mullins was on the side watching practice today in street clothes awaiting clearance.
"We're still very encouraged about his arrival," Richt said. "We think that's going to happen. We're anticipating that."
Richt also said he doesn't anticipate any transfers into the program at this point ... but he's also not ruling it out.
"If something popped up, possibly," he said. "But right now, there's nothing I would say is pending. Every once in a while, it's like, 'Hey, so and so, he's leaving, look at his tape, find out what kind of kid he is and see if he can fit.' There are still things stirring around the nation. There are some guys that are declaring, 'Hey, I'm a graduate transfer now and finally got a release.' I'd say don't hold your breath on that end, but don't be shocked if it does happen."
In injury news several players were on the side riding bikes during practice today - DE Tyreic Martin, CB Ryan Mayes, LB Mike Pinckney and Robert Knowles. None are considered serious, although Martin did appear to have a knee issue. Asked about Martin, Richt said, "Non-surgical injury that will keep him out a little bit."
Here's what else Richt was talking about:
Opening Statement…
"Today we were teaching our one-minute offense, one-minute defense. We had a drive where, it was right before the half, we needed a field goal attempt to have success offensively, really more of a teach drill. We had one at the end of the game where we needed a touchdown to win - again, teaching offensive and defensive guys how to do it. It really wasn't a competitive drill. It was a teaching drill, first shot out of the cannon. We did a little third and medium, third and long situation today. But it was a shortened practice - we went helmets only, as you can see. We did that just to give them a little bit of a break. Tomorrow we won't practice. And then Monday, we'll get cranked up again, in pads and have a typical two-hour and 15 minute practice, or however long it is. That's kind of where we're at today. More of a teaching day."
On giving players the second practice off Friday afternoon…
"Yesterday afternoon, yes. To be honest with you, two things - obviously it is smoking hot out here and they've been working in the heat. But they've been working well in the heat. Usually by that time, it's Practice 11 or 12 - usually by Practice 10, there's at least one dud in there....just not giving effort, not giving us all they have. I just didn't see that yet. I thought they were working hard, I thought you could see they were fatigued. You want them to fight through fatigue, but you also want to be wise with soft tissue injuries and things of that nature. It looked like a good time to give them a little bit of a break." On what percent of the offense has been installed thus far…
"At this point, 95 percent of installation is in. There will be a reduction when we get to game-planning. I say reduction of total [plays] - we're not going to put in every single play that we ran in the game plan. We'll pick and choose the things we like the best. And there maybe a few plays that are specific for an opponent that might be added to it. Overall, let's just say hypothetically there's 100 plays that we've installed, we might have 50 going into a game, 50 of the 100 we've been working all along. And then maybe a couple here and there that are new because of what we see on tape."
On the play offensive lineman Hunter Knighton…
"I don't know for sure, to be honest with you. We're working so many units. I'm watching quarterback play so much. When we watch tape as a staff, I am looking at it through the eyes of a quarterbacks coach. I'll see schematically if everyone is doing what they're supposed to do, or getting a hat on the right person. But I'm not specifically looking at his number to see how he's doing. Coach Searels is the best guy to ask about that."
On how the number of injuries compares with training camps of the past…
"It has been very, very good to this point. Very few. We had one I.V. on a player and one I.V. on a coach - I won't say which coach [laughs]. I don't want to be bragging about anything because then things happen sometimes, but it's been good overall, I think. There's been nothing catastrophic, nothing season-ending. That's been good."
On if he is excited for his first CanesFest at the BankUnited Center….
"I am. I'm curious to see how it goes. We are going to have a time for pictures, just without anybody, then there will be a time when our players' parents can do the CanesFest type activity, and we're allowed to give them some nice snacks or whatever, and just fellowship...then we'll go over to the BankUnited Center and do it with the fans. It's just a way of blessing our current players' parents, and not having everybody stand in the line with the rest of the fans."
On his thoughts on the SEC transfer rule….
"I didn't even listen. I guess you have to have a waiver in order to make that kind of transfer, is all I know. I kind of stayed out of that. I've unconditionally released any guy that ever wanted to leave, because I think life's too short. I would call the commissioner and say, 'The kid wants to go. Wherever he wants to go, let him go.' I think we had two kids go to Alabama, at least one went to Auburn, maybe two. But I don't put any limitations."