Cavinder Twins Headline Miami WBB: "They Never Get Outworked"
The Cavinder twins bring in proclaimed fame, a first for the Miami women's basketball program. Amassing over 5.2 million followers on social media, Haley and Hanna Cavinder are the biggest college stars to ever step on the hardwood at The U.
Head coach Katie Meier wants to make one thing clear, though. The twins are all in on their hoop dreams.
"I really want people to understand they're determined workers," Meier said. "Basketball is a very serious thing in their life, they don't back down from any challenge. The number one thing that they bring is that they never get outworked."
The identical twins are both 5-foot-six guards that have been dominant in the hoops scene since playing high school in Gilbert, Arizona. Haley was named the 5A state player of the year, while Hanna was the state's offensive player of the year.
"We were basketball players before TikTokers," Haley said. "I think people forget that. We love playing together side by side. It's something Hanna and I love to do."
The twins combined for 34.3 points per game as juniors at Fresno State last season, and were the top two in points, assists, steals, and minutes played. Haley averaged 9.4 rebounds, and scored at least 20 points 18 times last year. She was the 2021 Mountain West Player of the Year.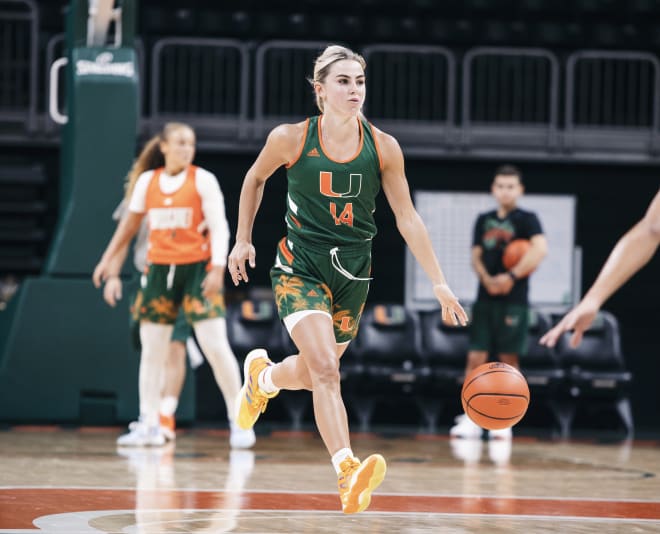 Their Division I basketball journey continues at Miami, where they look to get to the NCAA Tournament for the first time in their collegiate career.
"We wanted to be at a more competitive level and get to the March Madness Tournament," Haley said. "Last year, Miami had a great season. We were watching It at home. I wanted to be there, be playing in March Madness so that was definitely the point for Hanna and me transferring. "
Hanna was also an all-conference selection and has bought into the culture that Meier has instilled at Miami.
"I love her honesty," she said. "Right when we got on campus, I could see the relationship she has with her players and that's just something you can't fake.
Meier reached the second round of the NCAA Tournament last season, and has coached Miami to 12 postseason appearances, including 10 straight from 2009-2019.
With the Cavinder twins on the squad, Meier thinks her team can reach new levels.
"They're going to find a way to win," Meier said. "That has elevated our entire team. That's my highest compliment for them."
The twins are pioneers in the Name, Image and likeness game, and have earned over $1 million dollars in sponsorships, according to Forbes. They were the first female athletes to partner with Champs Sports, and have an NIL deal with Life Wallet, which sponsors plenty of Miami athletes.
"It's definitely been a journey for sure," Hanna said. "Starting out, we didn't really know much about NIL. Just kind of learning as we go. Creating a team around us with our agency and our attorney has been very impactful with time management and school."
The Cavinder twins bring a new audience to Miami that could certainly improve attendance this season. And while they're locked in on winning basketball games, boosting the team's marketability is something they'd love to add.
"Female sports need to be more supported in general," Hanna said. If we can do anything to help get more fans to come watch and see the amazing team that we have, then that's something that's a huge positive for any program."