OPINION: 40 Unforgettable Minutes with Jim Larranaga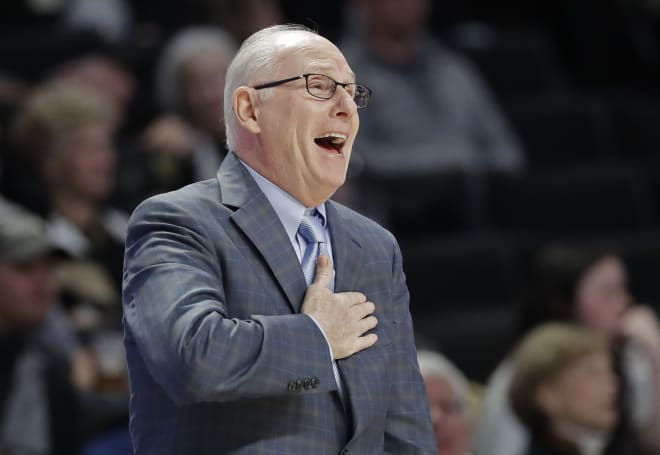 Four ACC teams entered the 2018-19 college basketball season having posted three consecutive 20-victory seasons.
Three of those teams were No. 1 seeds in the NCAA Tournament.
Virginia, still chasing its National Championship dream at this week's Final Four.
Duke.
North Carolina.
The fourth team has been on vacation for 19 days.
Miami.
The door to Jim Larranaga's office closes and the smiling Hurricanes' coach takes a seat on the corner of the couch at the far end of his office. Larranaga, who surged onto the college basketball map 13 years ago when he led Cinderella George Mason to the Final Four, has had every reason to be feeling angry as he observed March Madness unfold with the typical interest-level of a coach who has devoted his adult life to teaching and coaching the game of basketball.
Larranaga's eighth season at Miami was sent off the rails by things out of his control that tore down seven years of hard labor that had the Canes firmly on the ACC and college basketball map.
First, the FBI destroyed a potentially great recruiting class by falsely tying Larranaga to its investigation into illegal activities in college basketball. The NCAA pounded the next nail into the Miami coffin by declaring the team's best player, Dewan Hernandez, ineligible for the season even though evidence showed that Hernandez never took money from a sports agent despite earlier conversation about a potential financial arrangement.
"There are a lot of strange things that happen in your coaching career. This last year was crazy," Larranaga said. "When they told me we were being investigated by the FBI, I was afraid at first that one of our players had done something really bad. When they said it was me ... I said `What?'
"Then when I found out what it was and I had to hire a lawyer and explain to him I had no idea what they were talking about. ... And then as it unwound and we found out guys were scamming adidas. I was asked by the FBI if I knew them. I checked my phone, I didn't have any texts or phone calls. I tell them I don't know who Christian Dawkins is. That's who got me involved in that. I can't prevent somebody from saying stuff. But there is nothing you can do. Now there's an investigation that's going to take over a year. It's not just for that month.
"We were involved at the time with some of the best recruits we have ever been involved with. Saddiq Bey is now playing for Villanova. He verbally committed to us. Eric Ayala starts for Maryland. He verbally committed to us. We were still recruiting Nassir Little (North Carolina), Jules Bernard (UCLA) and Jalen Carey who plays at Syracuse. All those guys were right there with us."
On top of it, another big man, forward Deng Gak, was injured December 1 and ruled out for the season, leaving Larranaga with a totally decimated front court and just seven scholarship players to attack an ACC schedule that included the aforementioned gorillas and a total of five Sweet 16 teams.
Miami finished 14-18, the worst season Larranaga has endured since 1997, his first year at George Mason.
"It was the hardest season of my career," Larranaga told CaneSport in an exclusive interview. "But I don't really compare us to anybody else. I focus on our philosophy and the direction I want us to go in. When I started at Bowling Green University, the team was down. They were picked 10th in the conference. It had several losing seasons in a row. And what I told the players then is the same thing I told the players at George Mason and the players when I came to Miami. Build a program that everybody can be proud of.
"The way you do that is develop a program that is very inclusive. We reached out to the local community and did free clinics to reach out to the young kids in town. We started a basketball camp and asked the parents to buy tickets to our games. We went to dorms to get to know the students. We brought pizza and chicken wings. We went around to the corporate world and asked them to buy season tickets and support the program. I told the players they had to be role models, great students and great teammates. They had to put the team first, work hard together to make the team the best it can be.
"This year we were thrown a curve ball by the FBI. It took them a year to exonerate us. We have taken a step backwards. But the way I look at it is how did our guys do fighting through this adversity. They came through it with the right attitude and work ethic. Not with the best record. We didn't win the way we are used to winning. But they didn't quit. Neither did they complain or develop a bad attitude.
"Everybody finished the season. We didn't feel sorry for ourselves. Going into the season, we were picked preseason 10th (in the ACC). I looked at that and said no, we are much better than that. We had one heck of a front court with Dewan, Ebuka Izundu and Deng. Then we suddenly only had one of them left. The challenge was how do we survive."
Miami didn't really survive. The team wore down during games, often losing close contests in the final minute. But Larranaga is right. Nobody quit. Quite the opposite.
"In my mind we only had two bad games that we played below what we were capable of playing," Larranaga said. "The other games, even when we lost, we were right there. If you look at the games at Syracuse and at Duke, we just didn't play well. After that, you have 30 games left. We started out the season 4-0. We lose at the buzzer to Seton Hall, miss a three at the buzzer. We lose to Rutgers, we have a three to tie the game. We lose to Yale, a team in the NCAA tournament, where we make the three to win the game and get called for a charge. Now we are 4-3. We finish non conference play 8-4. I thought before the season that we would be undefeated. But without Dewan, the complications were endless. Even with just one more guy in the rotation or a little more consistency from the players who were playing, we are in the NCAA Tournament."
After the season, Larranaga sent a text to the returning players explaining how if they had won five more close games, the season would have had a different outcome.
"Seven guys is really enough to play the game," Larranaga said. "But we didn't have enough to practice properly. We couldn't simulate anything the opponent was doing. Those seven guys battled through it, the injuries, everything.
"Zach Johnson had a knee problem the whole year long, Ebuka had back issues the whole year. The day before we played North Carolina, Zach sprains his ankle also and is not going to make the trip. The trainer tells me there is no sense in him staying back because he can't treat him here. So he comes. He gets a treatment before we get on the bus, gets a treatment on the bus, gets a treatment on the airplane, gets a treatment at the hotel, gets a treatment the morning of the game at breakfast. And then when we show up at the gym, he gets one more treatment. He says you know what, it feels good enough for me to try. And then he plays 35 minutes. I've never seen anything like it. He almost made the game-winning shot."
Nothing can really replace winning championships, walking into places like the Dean Dome and Cameron Indoor and beating teams led by legendary coaches, taking the Hurricanes to a level playing field with giants of the game. Larranaga has done all that at Miami. But in a weird way, you can tell he did get some pleasure in how his team persevered through this tough season.
"You have to separate the categories," he said. "The part of me that is a teacher, I love this season. Working with the guys and helping them compete against teams that are loaded with talent. The motivator in me, how much of a challenge it was for me and for them to stay motivated despite some tough losses. The visionary, what is our vision for future. Where are we going. Are we still going backwards.
"We went seven years of just moving forward. Now we took a major step back. Can we take another major step forward? If we do, we are only back to where we were a year ago? It's that following year that I'll be very anxious to see, when Chris Lykes is a senior, when Rodney Miller is a senior, when Deng Gak has some experience, when these new recruits we bring in this year are sophomores. You need experience, you need older guys who have been through the battles. We should be really, really good again two years from now."
So what is the master plan to bring Miami back to that point again?
The Canes will return dynamic point guard and leading scorer Chris Lykes along with sharp-shooting guard DJ Vasiljevic, improving stretch forward Sam Waardenburg and utility guard Anthony Mack. Big man Deng Gak will return from the injured list and transfer Kameron McGusty, who could emerge as one of the top wing players in the ACC next year, becomes eligible.
Seven-foot center Rodney Miller, a forgotten man because he redshirted this year, will also return with two years of eligibility left. Miller and Larranaga decided before the season that he would sit out a year to continue shedding pounds and working on his game. When Hernandez was declared ineligible, the team really could have used Miller. But Larranaga and Miller stuck to their master plan.
"We should be really, really good again two years from now."
— Jim Larranaga
"Rodney weighed 280 pounds in August. We have Dewan, Buka and Deng, guys who are in great shape. They are going to probably play the whole game," Larranaga said. "Rodney's not going to play a ton. He had to lose the weight. He went on a regimen. In October, he was 255. He was still third.
"So I asked him if he considered the possibility of redshirting. The opportunity to eventually be a starter and impact play was far greater if he redshirted. He called his parents and came back the next day and said he agreed. We made that decision. We didn't know Dewan's status, but we were thinking we are going to get him back. Six games go by, nine games go by. We had to guess a little bit. Normally doing what is best for the player is what is best for the program. Rodney is really excited about the future. There are certain days he really looks good. Certain days he shows his inexperience. So we will see. We are counting on him quite a bit."
Those guys form a solid core for Larranaga in this new rebuild. But his strength is also in his back pocket in the form of six scholarships to bring in new talent.
Two have been awarded. Miami signed Anthony Walker, a 6-8 forward from Brewester (NH) Academy and 6-2 guard Isaiah Wong from Monsignor Bonner (PA). Both are top 150 players. Larranaga's plan is to land one more top tier high school prospect in the coming weeks and one fifth-year transfer big man. His final two scholarships would then go to the best players available with one possibly being a transfer who would have to sit out a year, a path that has been very successful for Larranaga.
It all is an opportunity to get better quickly.
"Now we are starting to replenish the talent pool," Larranaga said. "We have signed two very good players. We are after several more. If we get two or three of them, we will be back where we were a year ago when we were one of the top four teams in the league.
"We need a big guard like Bruce Brown, Lonnie Walker, Sheldon McClellan or Davon Reed. A guy who is 6-5, long and athletic and can shoot. That's a priority. We would much prefer a high school player there because we are building. In the front court, we could really use a 6-7 versatile guy like Anthony Lawrence and would probably prefer a fifth year transfer since we signed a freshman (Walker) in that same category. Let them battle it out for playing time. Then we are looking for somebody special who can really help us. We leave all options open. "
Larranaga has built the traditional way with high school recruits like Brown and Walker, with transfers like Angel Rodriguez and McClellan and with International recruits like Tonye Jekiri, Vasiljevic and Waardenburg. McGusty was this year's transfer project that should reap dividends next fall.
"He fits our style," Larranaga said of McGusty. "He is versatile. In practice we had him defend the one, the two, the three. He can shoot the three. He can drive to the basket. He has good size and good length. He can produce points."
McGusty also fits Larranaga's plan to surround mini point guard Lykes, who averaged 16.8 points last season, with more size to improve the team's defense. Miami's wing players this year were primarily the 6-3 Vasiljevic and the 6-2 Johnson. That created problems on the defensive end.
Gak is another major key. Larranaga still believes he could develop into an NBA player.
"He is not an offensive threat yet. He is not going to do it next year. He will show glimpses," Larranaga said. "But you have to develop your scoring mentality and how you are going to score. You have to plan. What shots are you looking for and what shots are you planning to take. Deng has to develop a game that he recognizes. Jump hook inside. Drive to the basket from the wing or top of the key. His length is tremendous. He has a 7-3 wing span. He can block shots. He has good elevation. The only problem right now is he can't practice."
Gak is out until the summer as he recovers from the knee injury he suffered in the December 1 loss to Yale.
The bottom line is that Larranaga has a decent core in place and enough scholarships in his back pocket to fix things very quickly if he can make them count, something he has proven able to do over and over in his career and at Miami.
Some people have a tendency to forget that. There was common debate on the Internet through the 2018-19 season over whether the disappointing year would inspire the 69-year-old coach to retire.
Larranaga, who has five years left on his contract, laughs at that notion.
"The only ones who don't want to win immediately are the NBA teams who want to lose a lot so they can get a high draft choice," Larranaga said. "Next year will still be a challenge for us, but we should be improved. The following year, we should be back to where we were."
He plans to coach out every second of his current deal, which would make him 74 at the possible conclusion of his career.
"If Miami will have me," he said. "I like what I do. I like being around the players. I am energized. I like listening to them, I like the interaction, I like hanging with them, I like teaching them and seeing them get better. The games are much more difficult because winning is better than losing.
"Jim Calhoun left Connecticut and two years later was back coaching Division 3. Why? Because it's our passion, something we love doing. It is something we feel we do pretty well. "
With that, Larranaga rose from the couch. There was a 2021 recruit out in the arena waiting to take a picture in uniform with the coach.
"There is nothing you can do," Larranaga said again as he marched out the door.
"I'm not retiring."
The young recruit left the building moments later with picture proof of that.