{{ timeAgo('2023-03-11 09:19:16 -0600') }}
football
Edit
Miami Spring Football: Way-Too-Early 2023 Projected Offensive Depth Chart
The Miami offense took on a facelift coaching-wise with the addition of new offensive coordinator Shannon Dawson, running backs coach Tim Harris Jr. and wide receivers coach Kevin Beard. On top of those staff changes, upward of five or more positions are up for grabs.
The rise in the competition will bring forth several position battles that could last until the very end of spring practice. After the first week on Greentree practice field, we take a way-too-early look at what the depth chart could look like when positions fall into place on offense.
Quarterback
Things really do not change with the quarterback position other than the exit of former blue-chip prospect Jake Garcia to Missouri.
Tyler Van Dyke returns for a fourth season at Miami after struggling under former offensive coordinator Josh Gattis and failing to finish the season due to injury.
Jacurri Brown still looks like the arm of the future after flashing potential at times as a true freshman.
True freshman Emory Williams slots in as the third quarterback for Miami, playing more of an emergency role and will likely take a redshirt this season.
Running Back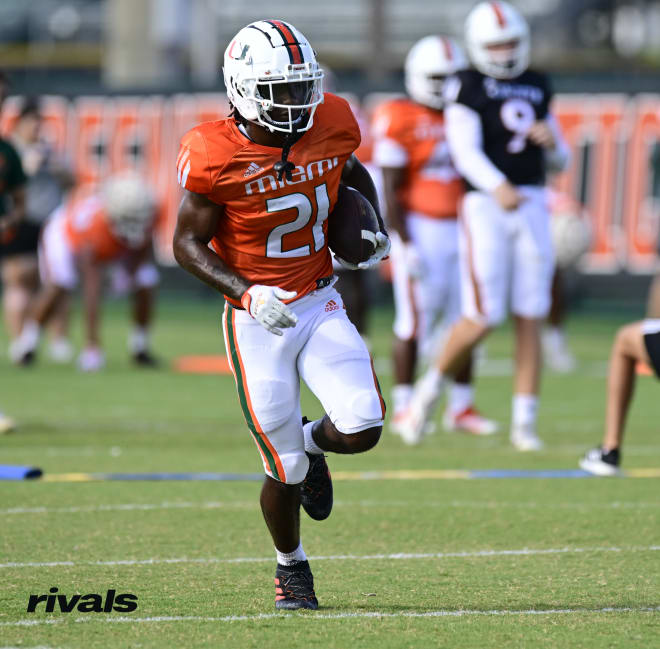 This position looks deep with five former four-star prospects among the group. Henry Parrish earned the role of RB1 with a solid 2022 before the injury bug struck, producing multiple 100-yard games.
TreVonte' Citizen was rumored to have the potential to take the starting job last season before a knee injury ended his true freshman season in the first fall scrimmage.
Another player with a history of major injuries is Don Chaney Jr., who returned from injury at the end of last season. He has not played in more than two games since 2020, but he was once an elite prospect who earned rave reviews from the staff over the last year when healthy.
Mark Fletcher Jr. and Christopher Johnson Jr. have elite potential and could potentially fit roles as a power back and speed threat if they can acclimate quickly to the college game.
Outside Wide Receiver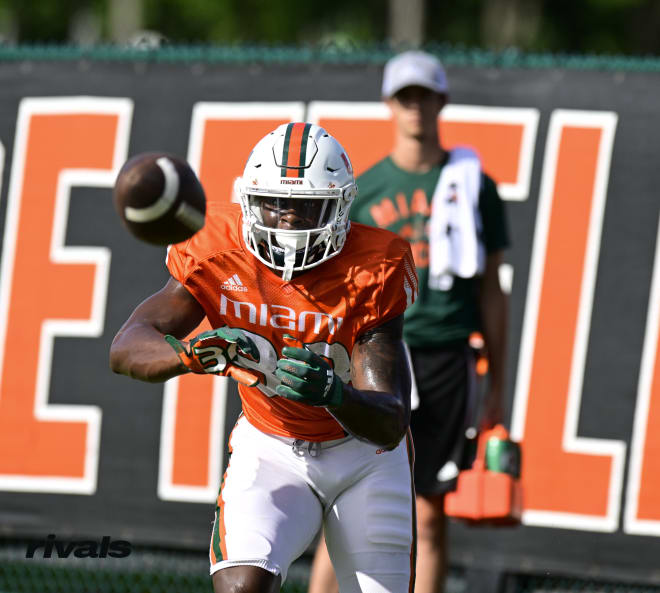 1. Colbie Young
4. Frank Ladson
The depth at outside receiver was an issue last season but that should not be the case in 2023. There are five players who are good enough to be on the field, four of which who have had extensive playing time.
Colbie Young was the breakout star of 2022 and should only get better with a full first off-season at Miami. Jacolby George has the ability to be special and with the Plantation High connection with him and Beard, a break out season is rumored to be in the works by many in the building.
Isaiah Horton is everything you want in an outside receiver at 6'4" 205-pounds and he has looked healthy through the first week of practice. He was a highly productive high school player who had the Miami staff excited when he signed.
The duo of Frank Ladson and Michael Redding does not excite the masses but you know what you are getting from those veterans and if injuries become an issue again, they are not bad options to lean on in an emergency.
Slot Receiver
5. Jefferson Walls
The implementation of 'Air Raid' concepts will be huge for this slot receiver group. Xavier Restrepo has proven how good he can be with consistent quarterback play when he is on the field and is in the conversation for overall WR1.
Brashard Smith deserves another opportunity to prove he was one of the best receivers coming out of high school. The adjustment has taken longer for him but he barely played the position at Miami Palmetto and was still one of the more productive receivers on the team last year. Huge potential with Smith.
The explosive freshmen, Nathaniel Joseph, and Robby Washington are going to need some time to see the field, especially with early hamstring injuries limiting them through the first week or so. They have the potential to be the vertical seam threats for this offense.
Tight End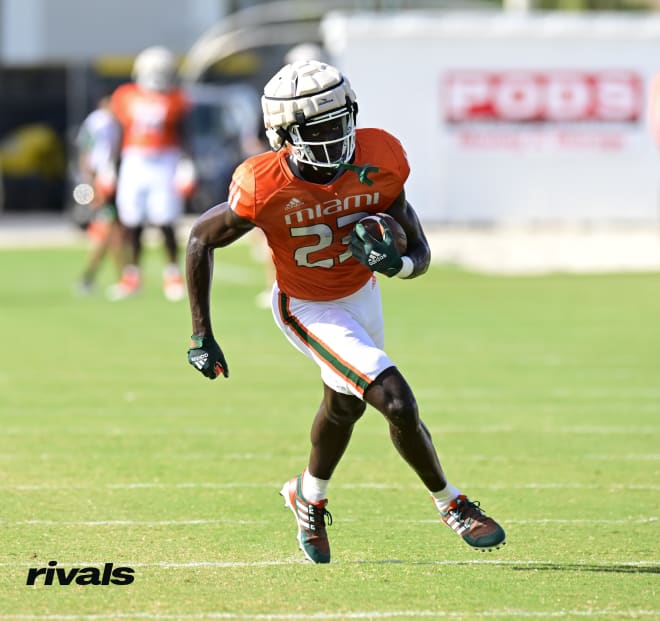 LOADED. Only way to describe the tight ends. Elijah Arroyo, if fully healthy, has All-Conference or better potential. Jaleel Skinner is going to play multiple roles at both wide receiver and tight end for Miami this season and will finally get a big increase in playing time with Will Mallory off to the NFL.
Cam McCormick will be the designated third offensive tackle, utilizing his experience and strength as a blocker. He will likely be on the field majority of the time for two-tight end sets.
The two freshmen additions of Riley Williams and Jackson Carver will likely redshirt this season. Williams could see a year as Skinner had in 2022.
Offensive Line
Left Tackle
1. Zion Nelson
Zion Nelson still has not been cleared to play, and if that continues, do not be surprised to see either five-star freshmen Samson Okunlola or Javion Cohen step in. Matthew McCoy will be a reserve player at both tackle spots.
Left Guard
1. Javion Cohen
If Nelson does get healthy, Cohen will slot it likely at the left guard spot which he played at Alabama. He is a massive upgrade at the position as one of the best returning offensive linemen in college football. Laurence Seymore earned respect for stepping in for injury and playing above expectations last season. Tommy Kinsler is going to be a really good player for Miami, but likely plays under the redshirt threshold.
Center
1. Matthew Lee
The easiest position on the offensive line to project. Matthew Lew, a top-five center in college football last season, caused Jakai Clark to depart this off-season and has cemented himself as the leader of the offensive line. Jonathan Denis will provide solid depth at both center and guard if needed. Ryan Rodriguez and Antonio Tripp are both young players that will be fighting for a chance to man this spot in the future.
Right Guard
1. Anez Cooper
2. Jalen Rivers
Here is where the fun really begins. Jalen Rivers is a multi-year starter who has overall been one of the better players in the room, but availability is the best ability. He has missed time every season at Miami and Anez Cooper looked like a potential star as a true freshman. With Cooper being a Cristobal recruit and the work he has put into his body, I believe he steps in and keeps his starting position. Logan Sagapolu will be the Denis of this position.
Right Tackle
2. Jalen Rivers
Francis Mauigoa has already been seen in the first group in practice. He has elite potential and is being compared to a former Cristobal and Alex Maribal prodigy, Penei Sewell. Rivers is cross-training at offensive tackle as well, and if Mauigoa does not progress early the way many expect, he could end up starting here, as well. Michael McLaughlin will add to the offensive tackle depth with McCoy.