Mark Pope: The story of a 5-star recruit's journey to the transfer portal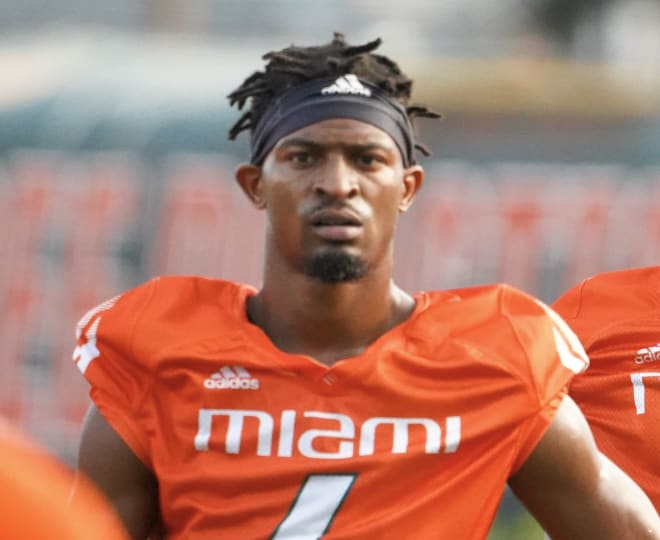 It's a story of unlimited potential.
High hopes.
A hometown star.
It was supposed to be easy for WR Mark Pope. After starring at Miami Southridge High School and earning that elite 5-star status in the Class of 2018, Pope could have signed pretty much anywhere in the nation including Alabama, Georgia and LSU.
But he wanted to stay home and help build something with then-coach Mark Richt, who was coming off a 10-3 season.
As it turns out, Pope's path thus far in college has mirrored Miami's inconsistency in its 7-6, 6-7 and 8-3 seasons the last three years.
And after his own struggles as a starter last year, Pope was relegated to backup this year ... and out of desperation even took some cornerback reps in practices.
It didn't work out, and Pope entered the transfer portal Tuesday, just as UM's other five-star signee in his class, Lorenzo Lingard, had done two years earlier and former teammates Gurvan Hall and Bradley Jennings also did this week.
"I feel like from high school up until now, it was good but I feel like I have to get out of Miami to see that (5-star) side again," Pope told CaneSport. "I need to go out of town. I feel it wasn't me at Miami, to be honest. That's one reason I left because I feel it wasn't me, I feel like it wasn't my fault why I wasn't playing.
"So I just feel like getting away, that'll be a good step for me. One of my biggest fears is just being alone, being far away from home, but I also can probably focus better that way. You never know what the outcome might be being away."
Pope says when he departed it was essentially a mutual decision - he says there was no pushback from Cane coaches asking him to stay.
"It was `You know, if it's best for you to do what you've got to do,'" said Pope, who also contemplated transferring in the spring. "I did what I had to do. That's what it was."
Pope had one catch in 2018 as a freshman, playing off the bench in nine games. As a sophomore he made one start and caught 18 passes for 266 yards with two TDs.
And then came his big chance, his junior year in 2020 under new coordinator Rhett Lashlee and WR coach Rob Likens.
But despite starting 10 games he struggled with drops and simply making plays - in all he had 33 catches for 403 yards and two scores. The former high school five-star bigtime game-breaking talent had a long reception of just 39 yards.
Then this year he was passed by on the depth chart by Key'Shawn Smith and transfer Charleston Rambo.
Pope saw the writing on the wall and made the decision to transfer.
"I can't even tell you why I did not play this year, why I did not get a snap at Miami this year - I really don't know," said Pope, who remains enrolled and on track to graduate before enrolling somewhere else. "I mean, I'm past that. I'm ready to find a new home, get back on my journey."
Pope entered the portal yesterday and has already spoken with Indiana and Jackson State coaches and has interest from Virginia and Pittsburgh as well. So yes, there's a chance Pope could be playing against the Canes in a year.
"I have a lot of teams following me, too," Pope said. "A lot of schools are showing interest."
Looking back, the deck was stacked against Pope from the start.
He had three different receiver coaches and three coordinators in his time at UM. His WR coaches were Ron Dugans in 2018, Taylor Stubblefield in 2019 and then Likens. And the team's coordinator was Mark Richt in 2018, Dan Enos in 2019 and then Lashlee.
So not much continuity for a guy who struggled to pick up a new system in the first place.
"It was a lot of trust issues," Pope said. "I was on thin ice every time, like if I get in the game and mess up, drop a ball, you're getting out. It's not `You dropped a ball, it's alright, get back in there.' So I was on thin ice playing for Miami. Instead of just going out and playing football I was in my head a lot. I feel like everything wasn't (the fault of) Miami, I made a few errors out there, too. But as far as me playing, I felt I was on thin ice. I wasn't comfortable out there. I could tell I was in my head and other people saw that as well."
Pope and fellow WR Dee Wiggins along with S Gurvan Hall are the latest members from the 23-strong Class of 2018 to defect from Miami.
These are supposed to be fourth-year players at UM right now, the backbone of the program.
You want to know how many of those 23 signees are currently in first or second team roles? Six: Will Mallory, Nesta Silvera, DJ Scaife, DJ Ivey, Gil Frierson and Jordan Miller.
So three current starters came from that class, and the failures in recruiting that year are a reason so many younger players have seen the field.
Eleven of the 23 wound up transferring to another program.
"It's a business," Pope said. "I felt like for me, my time was up at Miami."
Now, as Pope seeks his new college home, there remain so many what-ifs.
What if he'd gone to Alabama or Georgia or LSU?
What if he didn't have three different receiver coaches and three different coordinators?
What if, what if, what if.
"That `what if' came a lot," Pope said. "But I can't think about it all the time. I know I can compete with anybody wherever. I just feel like I had trouble with the playbook, not feeling comfortable, not feeling like myself."
Now it's on to the next chapter.
Pope says his lingering memory of Miami will be "it's a great school, great program."
The way he hopes his story ends?
"I'm just ready wherever I land to help that team win," Pope said. "I'm ready to feel like myself again."